Thank You to Brian Glowacki for hosting a comedy fundraiser for the Marla Ceely Lamb Fund Daffy Weekend at the Dreamland.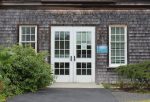 To access the PASCON offices come into the first parking lot on the right as you enter the Commons. Drive towards the end of the lot near the resident gardens and enter through the double doors.
Held in our offices. Call for more info.
"Time Out" for Caregivers
Our Spring Newsletter is Here