Annual Art Show Thanksgiving Weekend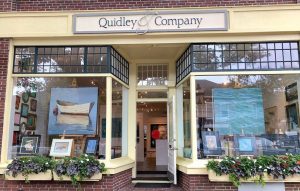 Held at Quidley & Company on Main Street, but virtual in 2020 and 2021 due to COVID, is now a hybrid event.
The virtual auction opens on November 22nd at 10am and bidding closes Saturday, November 26th at 4pm.
Come see the available items November 25th and 26th at the Quidley & Company Gallery on Main Street. We are more excited than ever by this charitable collaboration with the local artist community.
Hosted annually by Quidley & Company. Special thanks to Sharon Woods Hussey, Chris Quidley, and Bobby Frazier of AAN, and all of the artists participating.
Proceeds benefit both the Marla Ceely Lamb Fund and Palliative & Supportive Care of Nantucket
This Year's Committed Artists Include:
Over 200 artists have participated in the show since its inception in 2010 and it has raised more than $225,000. Many individuals and businesses have also donated their time and energy and goods and services to make the event a huge success. Past supporters include Quidley & Company, Nantucket Frame Center, Cape Cod Five Cents Savings Bank, Stacey Perry, Stop & Shop, and Cumberland Farms. Former PASCON Board member Gussie Beaugrand was also key to the event's success in the early years. For more about the history of the event and its impact, read this article written by PASCON Foundation Board Member Sharon Woods Hussey for the 2017 Holidays Issue of Yesterday's Island/Today's Nantucket.

Past Shows