Swim Across America Nantucket's 2016 Island Swim was another great success, raising over $340,000 for Nantucket Cottage Hospital and PASCON!
Swim Across America : Nantucket 2015 from Kit Noble & Nantucket Films on Vimeo.
The 2017 swim is scheduled for Saturday, August 26th at Jetties Beach.
Registration opens on January 16th.
Visit Swim Across America for more information, to register, or to donate to this year's swim. All money raised stays on island for cancer treatment and care. A fun and inspiring celebration of those we love fighting cancer and the family, friends, and community who support them.
Click HERE to view pictures of the event on Swim Across America's website.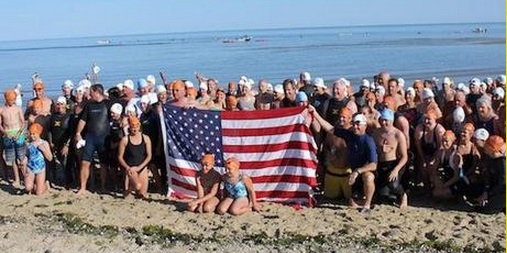 History
Swim Across America began as a relay swim from Nantucket to Hyannis and has evolved to 15 open water swims and dozens of pool swims around the country. Swim Across America came back to its Nantucket roots for its 25th Anniversary year in 2012 and joined with the Nantucket Triathlon to host a landmark event on Sunday, July 22nd, 2012. A portion of the proceeds from the swim went to Palliative & Supportive Care of Nantucket (PASCON) and Nantucket Cottage Hospital (NCH).
It was such a success and so much fun for all involved that they returned in 2013 for the First Annual Island Swim. It was held on August 24th and raised over $185,000! Nearly all of the proceeds were split between PASCON and NCH. The goal for 2014 was an ambitious $225,000! But they reached their goal with the community's help. In 2015 they raised the stakes again shooting for $300,000! They did it. They exceeded their goal, raising $325,000! 2016 saw another astonishing increase to $342,000, and we know we can do even more this year. Nantucket needs this. Nearly all of the money stays on island for cancer care and support services.